The commercial real estate sector in India is huge. As more and more startups are emerging, it has increased a need for more and more office space. This has led to an increasing number of businesses taking up more commercial space for leasing. Considering how important leasing is for a business and the revenue it can generate, it is extremely vital for companies to keep track of leasing trends of various brands and organizations across industries.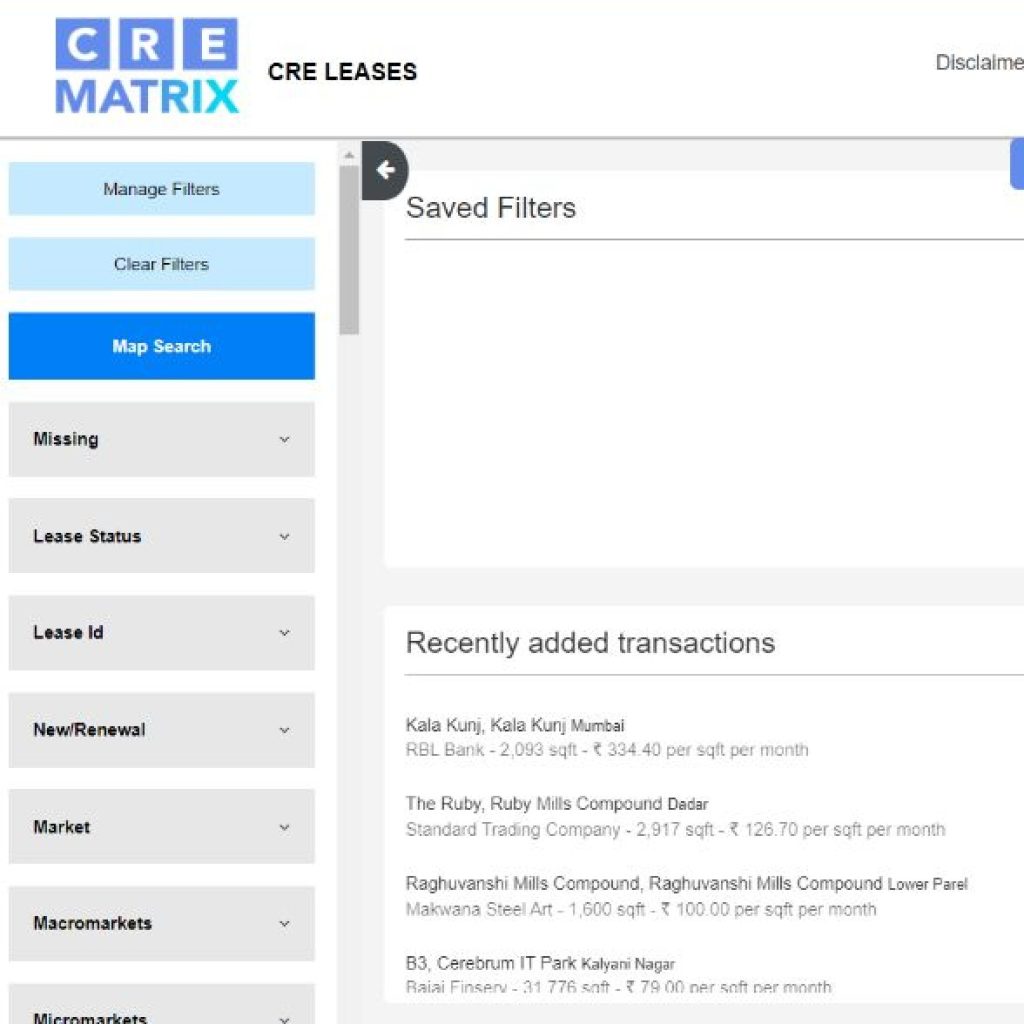 This is where a firm such as CRE Matrix can hugely benefit. It is a leading real estate data analytics company India that allows stakeholders from various industries to view and compare crucial lease-related data that can prove to be immensely useful for making informed decisions about their businesses. CRE Matrix offers various tools – for both commercial & residential. One of the platforms that companies can use to understand more about the leasing trends of the market and compare their performance with their competitors is CRE Leases.
Let's talk a little bit about CRE Leases and how this tool can help businesses comprehend the newest leasing trends.
What are CRE Leases?
CRE Leases is a tool offered by CRE Matrix that can aid companies and brands to understand a little about the leasing trends in the market today in this country with respect to offices, warehouses, retail, and so forth.
How Do CRE Leases Work?
The client can seek leasing data from the number of filter buttons available. Some of the important ones are:
Lease Status: Here, you can select the status of your lease or the status of the lease you wish to view. The options that you can choose from are: active, inactive, active due to renewal, active as co-working and in-active as co-working.
MacroMarket: Once you have chosen the market, you need to select the macromarket. For e.g.: If you have selected Mumbai as your market, then the macromarket can be Central Suburbs, Western Suburbs etc.
MicroMarket: After you have chosen the market, you need to proceed to pick the micromarket. For e.g.: If you have chosen Mumbai as your market, then the micromarket can be Andheri (E) or Borivali (W).
Grade: Here you can choose the grade of the building. For e.g.: Grade A, B, C, shopping mall, 3 star, 5 star and so forth.
Area Leased: In this filter, you can select the range of the area that has been leased.
Tenant: You can choose the tenant whose details you wish to view.
Landlord: You can select the landlord whose information you wish to take a look at.
Agreement Type: Here, you can pick the kind of leasing agreement you have been seeking. For e.g.: Lease Deed, Leave and License, Transfer Deed and so forth.
Lock-In Period: In this filter, you can select the duration of the lock-in period.
Rent-Free Period: Here, you can choose the start and the end range of the rent-free period.
Security Deposit: You can select the range of the security deposit in this specific filter.
To sum up, the above-mentioned filters are just some of the many options available for you to get lease data of a number of companies across industries. There are many other filters available that can give you the complete picture of the information you're seeking.
CRE Leases is a comprehensive and robust offering, powered by CRE Matrix, which allows you to compare crucial leasing data. Trends and patterns emerge from the vital information provided.
If you wish to be the recipient of significant lease information, do subscribe by visiting CRE Matrix.