In 2021, there has been a tremendous development in residential and commercial real estate in India. The market was already growing as the requirement for residential apartments and plots rose post nationwide lockdown. The property rates observed a huge increase in demand and prices per square foot.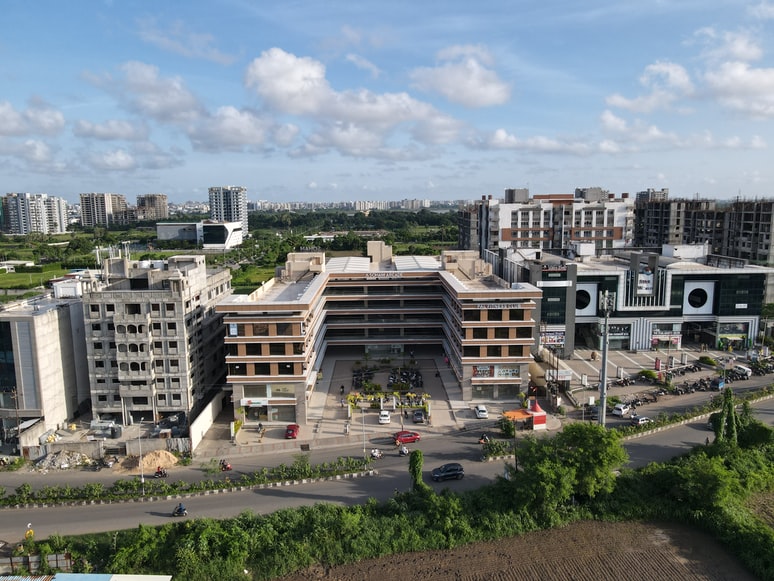 Apart from commercial areas that tailor to the daily or weekly needs of the residents, the corporate world has started to convey interest in mounting operations, thanks to enhancements in connectivity and anticipated economic development.
We could witness further liquidity transferred into commercial real estate this year. It is believed that the year 2022 will see a growing surge for appropriate workspaces, freehold commercial and residential properties, and new concepts that will increase returns for investors.
As we go deeper into 2022, here are a couple of forces that will push the commercial real estate industry in India.
Residential Property Market is Expected to Rise
After an extended duration of dropping and then stabilizing, residential property rates are possibly expected to begin rising again. Approximately 5% capital value growth has been estimated for the residential property segment in India in 2022.
Several of the supply and demand-side factors are taken into consideration and evaluated over the last decade. This drive is projected to continue in 2022 as potential homebuyers' preferences for larger residences, improved facilities, and lucrative pricing will help seal the deals.
Foreign Investment is Estimated to Push this Sector
Foreign Direct Investments (FDI) will continue to be a significant development driver, and the same is valid in the case of the real estate players as well. Indian real estate has managed to draw a huge amount of foreign moolah, particularly in the residential market. With RERA assuring transparency and laws permitting 100% FDI in construction, Indian real estate is observing pointed investment infusions from NRIs.
Property Rates Projected to Rise
In 2020, approximately 1.38 lakh housing units were sold. When you pit it against the previous peak in 2014, this was considered to be a rock bottom of 60%. Nevertheless, between January and September 2021, 1.45 lakh units were sold. There was a 5% surge in sales in 2020.
Increase in Demand for Co-working Spaces
In 2020, there was significant growth in office closures and a swift shift in ubiquitous remote employment globally. This trend carried on in 2021. However, as the vaccines started rolling out, people slowly returned to their workplaces. Thanks to the pandemic, firms have had to spend time and money investing in digital abilities to let employees work from home.
Businesses are seeking new working approaches while allowing workplace flexibility to make sure that profitability balances well with employee well-being. The most obvious development has been the surge of a hybrid workforce across an array of workspace choices, including flexible offices.
Growing Demand for Data Centers
The massive digital push generated by the COVID-19 pandemic has been lucrative for data centers which could still offer an approximate 15% rental yield. Firms started to modify their digital infrastructure to cater to the new work environment instantly after India went into lockdown due to the pandemic, thereby leading to a 25-35% increase in data center capacity.
The year 2022 is also believed to observe an increase in SCO (shop-cum-office-space) concept development. These SCO plots will assist entrepreneurs to develop their business concepts by owning a commercial space at moderately placed prices with advanced amenities. Sharp investors can witness the benefits of a well-equipped setting that backs retail or office in a favorable market. Mixed-use commercial spaces will help investors in expanding their risk in the investment portfolio by making the most of the new evolving idea. 
For more CRE industry insights and data research do contact us